Parent Connection Board Meeting
Nurturing Your Child's Spirit... Strategically
Learn creative, fun and innovative ways to deal with the challenges of raising a spirited child using techniques from Mary Sheedy Kurcinka's Raising Your Spirited Child and the successful parenting program Redirecting Children's Behavior.  The cost for Parent Connection members is $295 per couple, nonmembers are $350 per couple.  For a class schedule, contact Jackie Hartmann at 760-533-5256.
Available Spaces: Unlimited
Wacky Wonky Walk & Kids Festival!
This Willy Wonka-themed fundraiser includes sweet treats, oomph loom pas, games, food and a Kids Zone!  Come out and enjoy these spooky shenanigans!
Registration is at 9AM
Waterfront Park, County Administration Center, 1600 Pacific Highway, downtown San Diego.
Available Spaces: Unlimited
Your Child's Home -- Little Changes, Big Results
Did you know a ch
ild's home setting is crucial for healthy development? Come hear our guest, Jeanne-Marie from V
oila Montessori, speak about the four basic areas your child needs at home; how you can create fun and engaging activities for infants, babies and toddlers; how to create a baby-focused nursery; support early toilet awareness; and much more.  This even is free for Parent Connection members, $10 for nonmembers.  Registration is required!
Available Spaces: Unlimited
Yoga Classes Designed for New and Expectant Mothers
Penatal Yoga
Prepare for labor and delivery, relieve lower back pain, improve digestion, learn
breathing and meditation techniques for relaxation during birth, improve your circulatory system and reduce swelling in your limbs.  (NOTE: A Medical Clearance Form must be signed and completed by your physician before attending prenatal yoga.) 
Mommy and Me Yoga
This class
will teach breathing techniques and yoga postures.  It includes a brief meditation time to help relieve lower back pain and stress, which will help to cultivate better sleep as well as a balanced life with your baby.  Moms may join the class when baby is two months of age until the baby begins to crawl.  Bring a yoga mat and a blanket.
Registration is required for either class.  Each class costs $12 per person to attend.
For more information on times, dates and locations and/or to register please call Lauren Donovan at 858-997-4261 or email yogarxsd@gmail.com
Available Spaces: Unlimited
San Diego KidsExpo & Fair
2 days of family fun and entertainment for kids of all ages (and parents too)!
Four stages of music, dance, modeling, guest appearances plus over 100 businesses with products and service for kids and families!
Outdoor Family Fun Zone along with a 200' zip linen euro bungee and more...
Available Spaces: Unlimited
Haunted Birch Aquarium: Shipwrecked!
Ghouls and buoys of all ages are invited to spend a safe and "spirited" Halloween at Birch Aquarium at Scripps Institution of Oceanography, UC San Diego.
Discover what lurks beneath the surface Oct. 24 & 25 at the 14th annual Haunted Birch Aquarium: Shipwrecked! The entire family can soak up spooky science activities, explore the aquarium's "wreckage" for sunken treasures, BOO-gie down with zydeco band Billy Lee & the Swamp Critters, and enjoy close encounters of the fishy kind.
Haunted Birch Aquarium offers participants a fun and informal atmosphere in which to learn about ocean science. Scientists from Scripps Oceanography will be on hand to engage participants and demonstrate their research. This spooktacular event is geared toward families and open to guests of all ages. Children ages 2 and under are free, and children under 16 must be accompanied by a paid adult. Haunted Aquarium: Shipwrecked! is sponsored by Nielsen Construction.
Come dressed to impress in your best costume for great prizes! Proceeds support exhibits and educational programming at Birch Aquarium at Scripps.
Oct. 24 & 25: 6–9 p.m.
Members: $12
Non-members: Pre-paid: $15, Walk-ups: $17
Children ages 2 and under: FREE
RSVP: 858-534-7336 or at aquarium.ucsd.edu
Available Spaces: Unlimited
First 5 San Diego's Free Parent Summit
First 5 San Diego invites parents and caregivers of children ages 0 through 5 to the inaugural Parent Summit. Parents and caregivers will discover new parenting tools and techniques through a variety of workshops and demonstrations, covering topics such as behavior and temperament, bonding with your child, talking, reading and singing to your child, preparing your child for preschool, healthy eating, exercise, fostering children, and more.

The event will also feature a fun expo where parents can learn about the many resources and services offered by First 5 San Diego and other community partners. Families will be able to enjoy entertainment, a kids' zone, raffle, and other fun activities. Limited childcare will be available on site, so pre-registration is required.

Saturday, October 25, 2014
8:00am – 12:00pm
Liberty Station – Ingram Plaza
2640 Cushing Road
San Diego, CA 92106
Free parking is available on lots L-1, L-2, N-2 and on-street

8:00 am – Registration
9:00 am - Event kick-off and Keynote Speaker, Fred Becker
9:25 am - Breakout Sessions
10:50 am – Expo
Register today:
www.first5sandiego.org/parentsummit

Contact: Melissa Bartolome, melissa.bartolome@sdcoutny.ca.gov, (619) 523-7724
Available Spaces: Unlimited
Historical Children's Faire
Come enjoy carnival rides, crafts, a wild west show, free root beer float, and Jolt'n Joe's Hot Dogs!  Free Admission*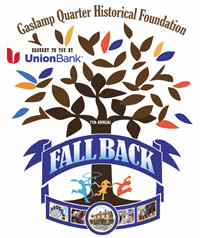 4th & Island Avenues - Gaslamp Quarter - San Diego
*Some activities require a nominal fee
Information can be found at http://www.gaslampquarter.org
Available Spaces: Unlimited
The 10th Annual Boulevard Boo Parade!
Come see San Diego's ONLY Halloween Parade on October 25, 2014 at 10 AM on El Cajon Blvd (Between 59th St. & Aragon Drive)
Available Spaces: Unlimited
Harvest Festival
"Looking for a free, family-friendly alternative to trick-or-treating? We'd love if you joined us for Harvest Hop! We'll have jumpies, games, car shows, food trucks, live entertainments, and more! Candy, admission, and games are FREE! Email us at info@lccmail.com for more information."
Location: Life Christian Church
Address: 1132 N. Melrose Ave., Vista, CA 92083
Date: Friday 10/31/2014
Time: 5pm-8pm
Website: www.lifechristianchurch.com
Phone: (760) 439-3300
Available Spaces: Unlimited
California Ballet's Giselle
Often referred to as the Hamlet of the dance world due to the great demands made of the ballerin
a's acting skills, Giselle is the quintessential ballet of the Romantic era.  This ballet is a heart-breaking story of secrets and deception, insanity, early death, retaliation and ultimately forgiveness taking place amid the ghostly Wilis, A cult - like group of other worldly spirits.
San Diego Civic Theatre
1100 Third Ave, San Diego
858-560-6741
www.californiaballet.org/giselle
Price:  $40-$90; Children 12 & under receive a 25% discount.  Appropriate ages 8 and up.  Children younger than 5 will not be admitted to this performance.
Performance times:
Saturday, November 1 at 2:30pm and 7:30pm
Sunday, November 2 at 2:30
Run Time - Approximately 2 hours, 10 minutes including 1 intermission
Available Spaces: Unlimited
2nd Annual University Heights Urban Harvest Festival
The entire community is welcome to this FREE event to celebrate the fall harvest and urban gardening.  Bring a picnic
or just come to enjoy Birney garden tours, freshly harvested fruits and vegetables, cooking demonstrations, arts and crafts, music, pumpkin-composting games and more!  Bring your Halloween jack-o-lanterns to launch them from our trebuchet and to recycle them into compost for Birney's award-winning eco-garden!
Where:  Birney Elementary , 4345 Campus Drive, San Diego 92103
Available Spaces: Unlimited
Jack-O-Smash 5000 - a 5K Run and Fall Family Festival Benefiting Next Stage U and PoVa Therapeutic R
5K race begins at 8:00; 1K run/walk begins at 9:00; Family Fest is from 9:30 - 1:00 and Celebrity Softball begins at 11:30.
Where:  Sportsplex USA, 12349 McIvers Court, Poway
Why:  To support two great organizations and have fun smashing pumpkins!
Activities:  Timed Fast 5K Run, 1K Fun Walk/Jog, Food, Beer, Bands & Celebrity Softball Game.  Ultimate Kids Festival with Jumpers, Animals and Crazy Games and of course... Pumpkin Smashing!!!!!

Register & Details: www.Jack-O-Smash.org
Available Spaces: Unlimited
20th Annual San Diego Jewish Book Fair
San Diego's i
nternationally recognized San Diego Jewish Book Fair celebrates its 20th year with headliner Ari Shavit.  Book Fair events will run from November 8 through November 16, and are presented by the San Diego Center for Jewish Culture at the Lawrence Family Jewish Community Center, JACOBS FAMILY CAMPUS. North County events are scheduled for November 8 through November 10 at Temple Solel in Cardiff. From November 13 through November 16, including the free-of-charge Family Day Book-a-Palooza, on Sunday, November 16, from 10am-1pm, will be held at the Lawrence Family Jewish Community Center in La Jolla.
The book fair is open to the entire San Diego community.  Access to the bookstore, Family Day and a variety of afternoon lectures are free of charge. For a complete list of programs and prices, visit www.sdjbf.org or call the JCC Box Office at 858-362-1348.
Available Spaces: Unlimited
Your Child's Home -- Little Changes, Big Results
Did you know a child's home setting is crucial for healthy development?  Come hear out guest, Jeanne-Marie from Voila Motessori, speak about the four basic areas your child needs at home; you can create fun and engaging activities for infants, babies, and toddlers; how to create fun and engaging activities for infants, babies and toddlers;  how to create a baby-focused nursery; support early toilet awareness; and much more!
Available Spaces: Unlimited
Restful Nights, Balanced Days
Learn how to manage meals, routines, sleep and more in this exciting workshop for busy working moms with young children.  Gentle Sleep coach Jen Varela, Working Mom Support coach Elaine McGhee and personal chef Michelle Koenig will share tips for effective sleep training, healthy meal planning and how to balance it all using smart time management tools.  You will leave this workshop feeling recharged and ready to take on life!  Registration is required.
Available Spaces: Unlimited
Basic Training for Dads-to-Be: The Third Trimester
We're looking for a few good dads-to-be! With a baby on the way, tour life is about to change profoundly.
Our basic training class allows expectant dads the opportunity to hear first hand accounts from experienced dads who have been through it all. Learn about what to expect in the last trimester of pregnancy, at the birth, during the first few weeks at home and more. Our expert dads accompanied by their infants, will provide practical tips on diapering, feeding and soothing a newborn. This class provides an experience you can't get from reading a book or attending a childbirth class. Call (858) 380-4636, go to http://newdadsclass.com or email singly@newdadsclass.com for information and registration. The cost is $40.
Available Spaces: Unlimited
Tummy to Play Every Day for Infants Introductory Class for First Timers
Is your baby happy on his tummy, or is he one of the majority who fusses, screams and cries when placed down?  This class provides more that an hour of FUN learning about the importance of tummy time and practicing basic moves and learning about the importance tummy time and practicing basic moves and easy modifications to help ensure that tummy time is a happy time.  This class is for babies 0 to 6-7 months and up to two caregivers.
Available Spaces: Unlimited
Hullabaloo
Hullabaloo is farm-fresh, free-range organic kid-folk in a genre filled with musical Twinkies and Ding-Dongs.  Don't get us wrong (and please don't sue us, Hostess Foods Inc.)  Twinkies and Ding Dongs are great in small does, but after a while, you red something with a little more substance.
Suggested donation of $3 for Parent Connection members, and $5 for non members.
Available Spaces: Unlimited
Doodle Bug Designs at Hullabaloo Concert!
Doodle Bug Designs will be available for those who would like to make a clay impression of their little one's hands or feet.
The cost for the clay items depends on the item.  Ranges from $7.50 to $45.  
Available Spaces: Unlimited
Traditions of Christmas
Dec. 19 7:00pm
Dec. 20 - 23 2:00pm & 7:00pm
Don Powell Theater @SDSU 5500 Campanile Drive San Diego, CA 92182
Vittoria Allen, newsletter@cytsandiego.org 619-588-0206
christiancommunitytheater.com
$40 Section A, $30 Section B, $20 Children

The tradition returns! The 21st Annual Traditions of Christmas, A Musical Spectacular returns to the stage at the beautiful Don Powell Theater on SDSU's campus. Come be a part of one of San Diego's most beloved traditions as we celebrate 21 years of Christmas memories.

Traditions of Christmas has grown to be the biggest Christmas show in San Diego drawing over 250,000 patrons over the years. It is a musical journey of all the greatest Christmas songs and traditions from around the world. Santa's Workshop comes alive with dancing elves, Raggedy Ann dolls, toy soldiers and magical toys. The Rockette style tap dancing kickline will have you cheering in the aisles. You'll sing along with your favorite songs like White Christmas and Santa Claus is Coming to Town! It all comes together at the end with our most treasured tradition, the Living Nativity. It truly is the perfect show to capture the sights and sounds of Christmas.
Available Spaces: Unlimited
Home Alone Safety for Kids
It's difficult to tell when a child is ready to stay home alone for short periods of time.  This workshop is des
igned to help families prepare their children ages 9 and up, to be responsible and care for themselves safely.  An interactive video, games and activities are used to help prepare children for this big step.  The topics covered include: arriving home safely, staying home alone safety, fire safety, recognizing an emergency, home alone readiness plans.
Participant receive a home alone safety booklet and a certificate of completion.  This class is presented by Lockhart Training, a training center for the American Safety and Health Institute.
Cost is $55.  Registration is required.  To register, call (858) 314-0475 or email sue@lockhart-training.com
Available Spaces: Unlimited